[Solved] Enable/Disable Touchpad in – Asus 510z (Ubuntu 16.04)
Machine Specification
Distributor ID: Ubuntu
Description: Ubuntu 14.04.4 LTS
Release: 14.04
Codename: trusty
Board Information
sudo dmidecode | grep "Base Board"
BoardType:
Base Board Information
Manufacturer: ASUSTeK COMPUTER INC.
Product Name: X550ZE
My Touchpad information:
cat devices | grep Touchpad
N: Name="ETPS/2 Elantech Touchpad"
Now copy this script to /usr/local/bin/touchpad.sh
https://gist.github.com/samundra/6e06485c46f8267b222b1d4f7d6ea85b
Create file "/usr/local/bin/touchpad.sh" then copy and paste the above file contents into it.
change the file permission so it's editable and executable by you.
sudo chmod u+x touchpad.sh
you might need to change the ownership of the file too.
sudo chown developer:developer /usr/local/bin/touchpad.sh
Here developer:developer is the user:group in linux.
Now, we should bind a keyboard shortcut so that we can execute this script easily
through shortcuts. Open dashmenu and type keyboard. Open Keyboard settings.
In Keyboard settings window, navigate to shortcuts then to "custom shortcuts".
Then click on the "+" sign shown and enter the following details:
Name: Touchpad
Command: /usr/local/bin/touchpad.sh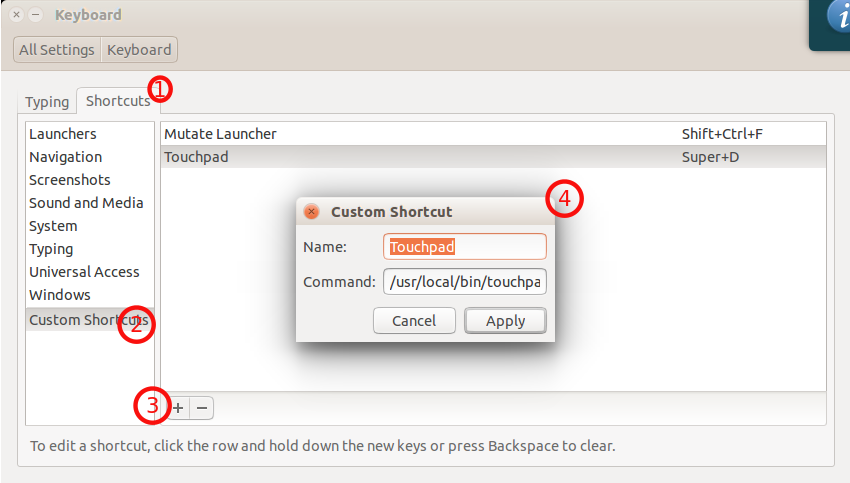 Click Apply.
Now this will be listed in the shortcut. But we are not done yet.
Now to assign the shortcut, click on the shortcut, it will change to "new accelerator".
Hit any shortcut that you would like to assign to enable/disable touchpad. In my
case, I choose super+D, here super is "win" key in windows. This will save the
shortcut. If you already have assigned the shortcut to something else it will
ask you to reassign the shortcut.
Now try to enable/disable the touchpad with shortcut. You should see disable/enable
notification at the right corner. Hope you found this useful, let me know if you
found any difficulty in following this article.
Thanks,